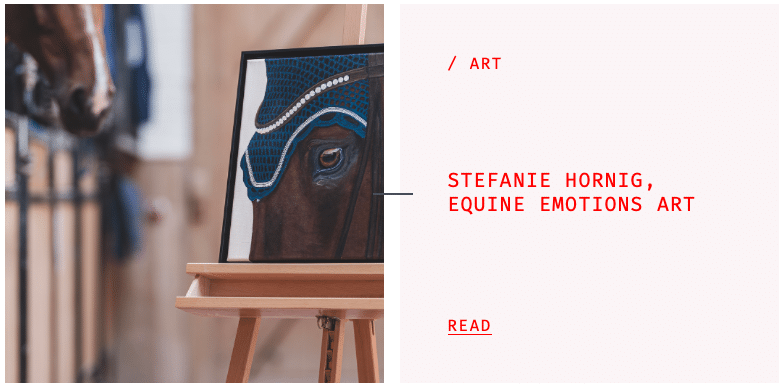 Born in Bielefeld, North-Rhine Westphalia, Germany, on November 18th, 1993, Stefanie Hornig is a very talented woman. After studying art at the International School in Prague, she is now working as the social media manager for a very important stable. In her free time, she cultivates her passion for art, combining it with her love for horses. Open-minded and very creative, her work is absolutely amazing!
WHEN, WHY AND WHERE DID YOU START RIDING?
My parents and my grandfather were instrumental in encouraging my love for horses and were all active riders themselves. My grandfather was a flat racing jockey, my mother a dressage rider and my father a show jumper. My mother was the one who actually then went ahead and bought me my first pony. Goldie was my first pony and he is still part of our family! He is enjoying his old age in a field next door to my family home. 
I competed in international show jumping classes when I was younger and enjoyed it immensely. 
After graduating and retiring my show jumper I have not been able to ride in any shows but perhaps there will be more in the future. Even though I never rode in any dressage shows myself I still ride using both dressage and jumping saddles and enjoy training in both disciplines – I like the balance of it and think that being open-minded makes one a better rider!
WHAT IS YOUR JOB IN THE HORSE WORLD

?

Horses have always surrounding me both in my daily life and my work. I work as a social media manager for a large show jumping stable in the mornings and paint portraits of horses in the afternoons. The evenings and weekends are spent with my horses and accompanying my boyfriend to horse shows – so horses really are a large part of my life! I own a horse, a foal and my pony – with my little herd continuously growing. I have recently devoted a lot of time to increasing my knowledge of breeding and am getting more and more involved in that and find it very interesting.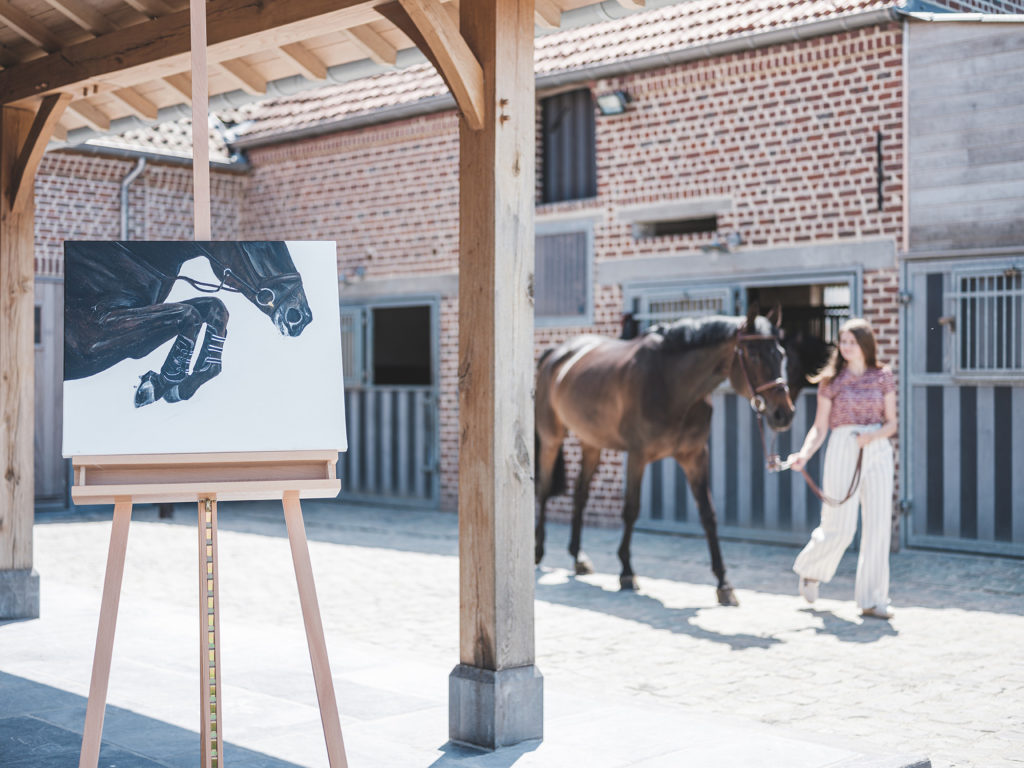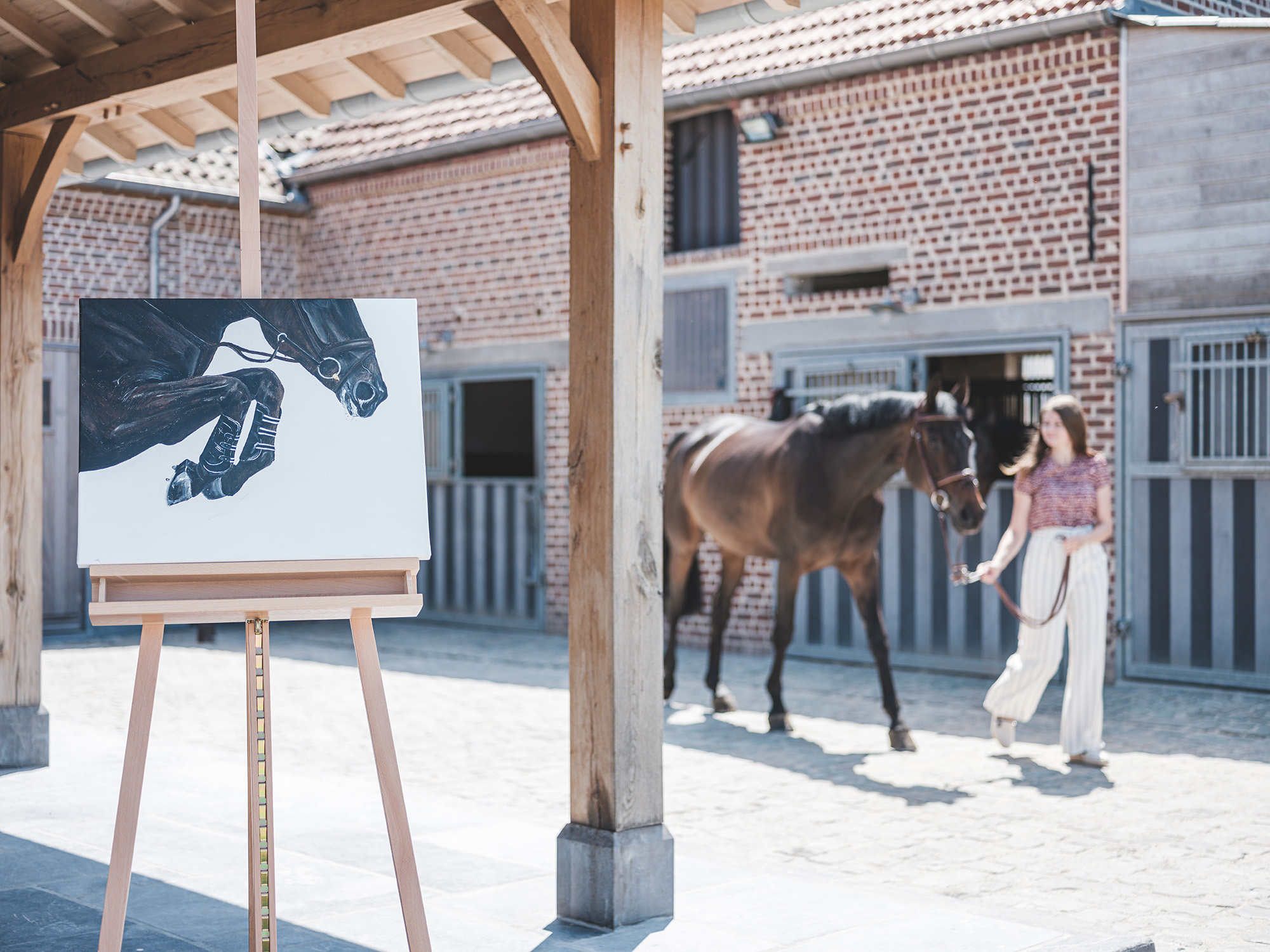 WHEN DID YOU DISCOVER YOUR PASSION FOR ART AND YOUR CREATIVITY

?

I have always been deeply interested in art and even though my parents are not artists, they have been very supportive. I might have inherited my art genes from my grandmother who was a ceramic designer and loves aquarelle paintings. I was also very lucky to be able to take part in the great art programme at the International School of Prague. This school has always been focused on supporting the interests of students and improving them! It was simply a hobby until two years ago when I started my art business, encouraged by my partner and my family, in order to also offer my paintings to others.
IS YOUR PASSION FOR HORSES LINKED IN SOME WAY TO YOUR PASSION FOR ART? 
Even as a young child, I have been passionate about both art and horses, but didn't see the connection myself at first. My art teacher introduced the idea to me initially and it is true that one is best at the things one is truly passionate about. I am very happy to be part of the "Paard Verzameld" Collective which is an international collective of artists focused on equine art in which we exchange ideas and meet for equestrian art exhibitions!
WHAT ARE YOUR FEELINGS AS FAR AS HORSES ARE CONCERNED AND HOW DO THEY INSPIRE YOUR ART?
Horses show me their great beauty and every single one has such a unique personality. That is also why I like to visit a horse before painting it. I believe that a photograph does not always capture their personality. Seeing a horse in real life allows you to feel it, observe its characteristics and personality. There is so much about horses that often can only be experienced when spending time with them, and it is then my job to try to choose a composition and a focus that portrays and does justice to this.
I also often like to work using a cut-out format. I love to focus on details. I'm quite the perfectionist and known to remember and observe details even in daily life. In my paintings I like to focus on details too, which helps attract the focus of the observer to a specific area and vision. In our fast-moving world, we tend to lose our focus on these aspects and I wish to draw attention to details and emotions. Getting to spend as much time with horses as I do is a privilege I believe and my paintings are a way of sharing my perspective of them with others.